Missions
WE ARE JESUS' HANDS & FEET
OUR PURPOSE
The goal of Missions & Outreach at Bethany UMC is to train and equip ordinary people to go and do extraordinary things in the name of Jesus so that all might see, hear and experience God's love in tangible ways.
UPCOMING SERVICE OPPORTUNITIES
Bethany Blesses those in Need in our Local Community
Welcome Home
Bethany has set up four households for refugee families moving into our area. We acquired the furniture, linens, cleaning supplies, dishes, etc. through donations from the congregation. The families we served this year were from Columbia, Sudan and Syria. The welcome home effort is in conjunction with the International Refugee Committee.
Rebuilding Together
In April 2023, Bethany volunteers worked on the home of a Howard County resident who needed some help. The crew completed a number of tasks to include plumbing, electrical, rebuilding a fence , replacing doors, and drywall repair. In addition to the work, we had a wonderful time getting to know the homeowner and working together. OUr project was coordinated with the Rebuilding Together of Howard County program.
Small Groups Serving Together
Many of Bethany's G.I.F.T (Growing in Faith Together) Groups are serving in the community as part of their walk together. Efforts include:
Collecting scarves and jewelry for the Jewels of Hope sale
Assembling hygiene kits for emergency care
Packing boxes at Operation Christmas Child
Serving and collecting items for asylum seekers in Washington, DC
Making cloth bags for medical missions
Week-long Appalachian Service Project
Rehabilitating living space for victims of human trafficking
Preparing meals for the Cold Weather Shelter
Responding to Emergencies
Bethany provided hygiene kits and flood buckets to those in crisis due to natural disasters or to asylum seekers or homeless persons.
SERVING THOSE IN NEED LOCALLY
Over the winter season, Bethany volunteers delivered potatoes to local soup kitchens in Baltimore and Wheaton. The potatoes were gleaned from farms in Maine and brought down to Maryland by the BW Conference United Methodist Men's group. We participated in four "Potato Drops" in 2023.
SERVING FAMILIES
Bethany strives to provide hope and support to families, both locally and abroad. Whether through the provision of camperships or delivering a gift and a message of love to children on behalf of their parent in prison, Bethany seeks to surround families in crisis with caring, compassionate community.
Bethany Blesses Friends Overseas
Rise Against Hunger
It was a fun-filled, action-packed time at our annual Rise Against Hunger meal-packing event where we packed meals to be sent to hungry people all over the world. Thank you to the 50 volunteers who help pack 10,000 meals in under two hours!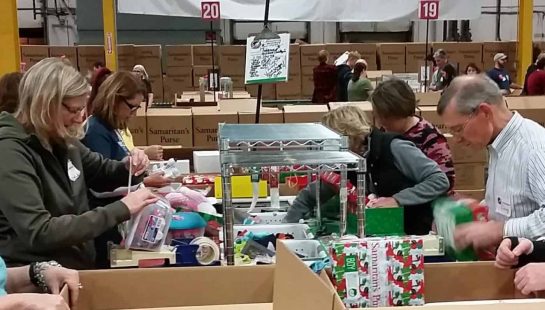 Operation Christmas Child
Whether providing supplies for medical mission trips, supporting the lives of families in need via livestock donations, or packaging meals to help alleviate world hunger, Bethany is doing extraordinary things in the name of Jesus so that all might see, hear and experience God's love in tangible ways.
Honduras Medical Mission
Read about Charlotte's 20+ years of mission work in Honduras and her conviction to be part of the Honduras Humanitarian Mission team every year for 22 years.
INTERESTED IN MISSIONS?
Not quite sure where to begin? Our team is ready to help! Fill out the form below and we will be in touch shortly to help you find some great options for getting involved.
In the same way, let your light shine before others, that they may see your good deeds and glorify your Father in heaven.
Matthew 5:16